Creative Photo Collage Ideas
Photo collages are the best way to show more, in one frame. They are the best gifts you can give your family and friends to hang on the wall and sometimes, it can bring in life to the wall of memories you have at home.
In this article, we explore some of the more fun and creative collage making ideas, for gifts or for personal use. From photo collage ideas for birthday gifts or any other occasion to decor inspiration, we've got them covered.
Here are the different ways you can get collage design ideas printed and displayed, and some of these tips also show you ways you can get them decorated in your living space.
1. Utilize the Corner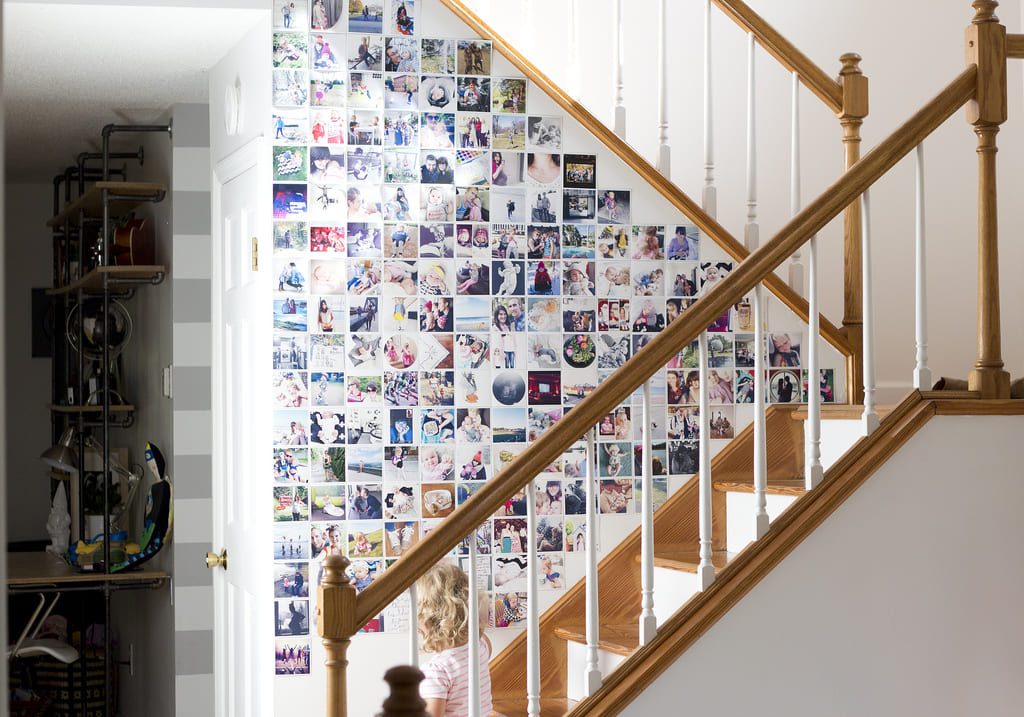 Image credit: Jen Loves Kev
Find a nice and cute corner of your room for you to display your photo collage. Stack the photos close together and make sure you make good use of the edges of the corners in your room!
This makes for an interesting design for your corner space and also grabs the attention of the viewer when they enter your room.
P.S. The square prints are perfect for this!
2. Hang it down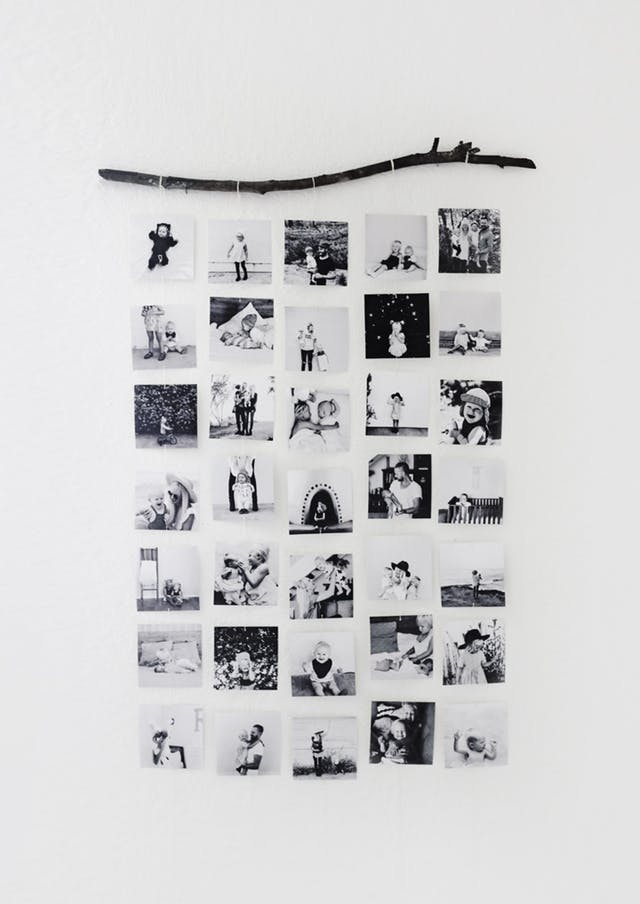 Image credit: Kelly Murray
Sure, we all hang our happy moments on print, but this time, let your imagination soar. A collage is a collection of treasured photos, and you can stick it on the wall, or think outside the box and hang your photos with string.
You can also find wooden planks, tie the photos to them and hang them vertically. For your bedroom, you can find an old hanger and hang your photos using strings from it!
It's easy, quick, and affordable, and certainly, one of the best creative picture collage ideas, simply because it's unique.
Want to give this a go? Try using Retro prints to make it unique!
3. Family Photo Collage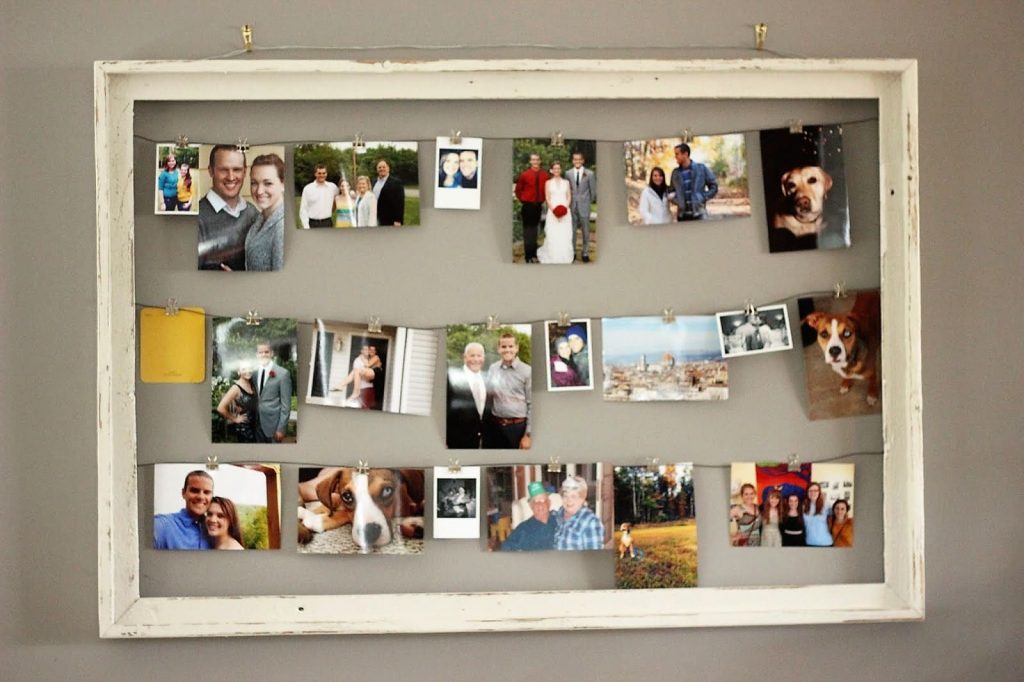 Image credit: My Crafty Spot
This is perfect if you want to get a casual look, mixing the hanging and framing ideas to create a unique photo collage designs ideas.
For this, you need a backless frame and wire (or thread if you prefer). Hammer small nails on each vertical side of the frame, which is where you will wrap the wire/thread around. Once done, hang your photos with mini binder clips or clothespins.
P.S. the photo prints don't have to be all alike. You can use a mix of square prints, mini prints, and retro prints to create the edgy mismatched look.
Print your photos online to start creating this creative photo collage!
4. Birthday Collage Ideas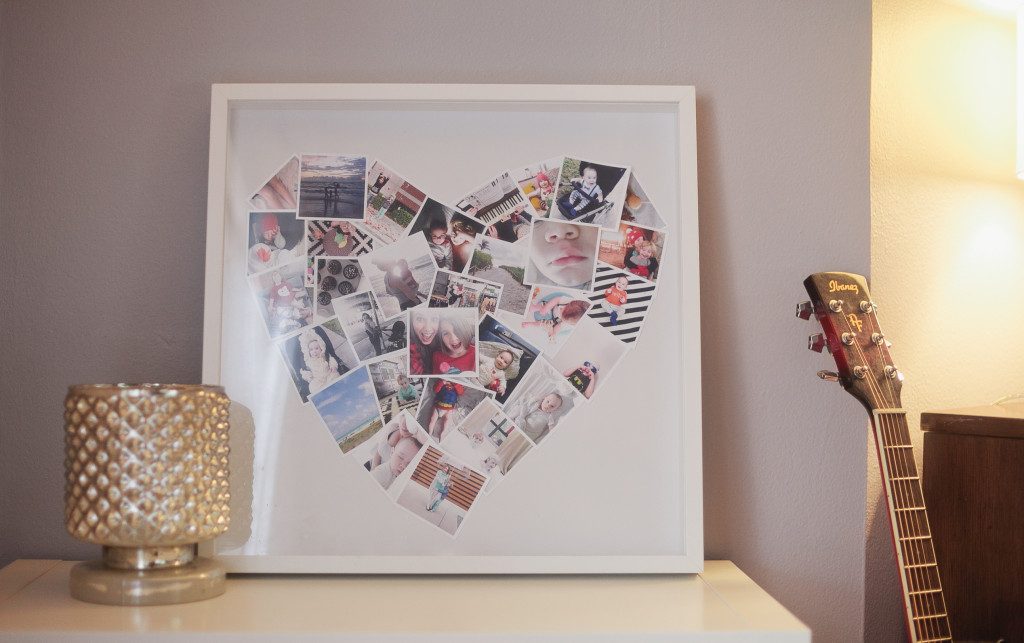 Image credit: DIYs
You can display your photo collages in a heart shape, in simple geometric patterns, or in the form of the letters of your loved one's name for a birthday gift.
These patterns against a wall can really complement and give the quirky edge to any room. Try different print sizes to play with shapes for your photo collage for birthday.
This is one of the perfect handmade photo collage ideas for birthday gifts, which you can also do a photo frame on your table.
5. Collage Ideas for School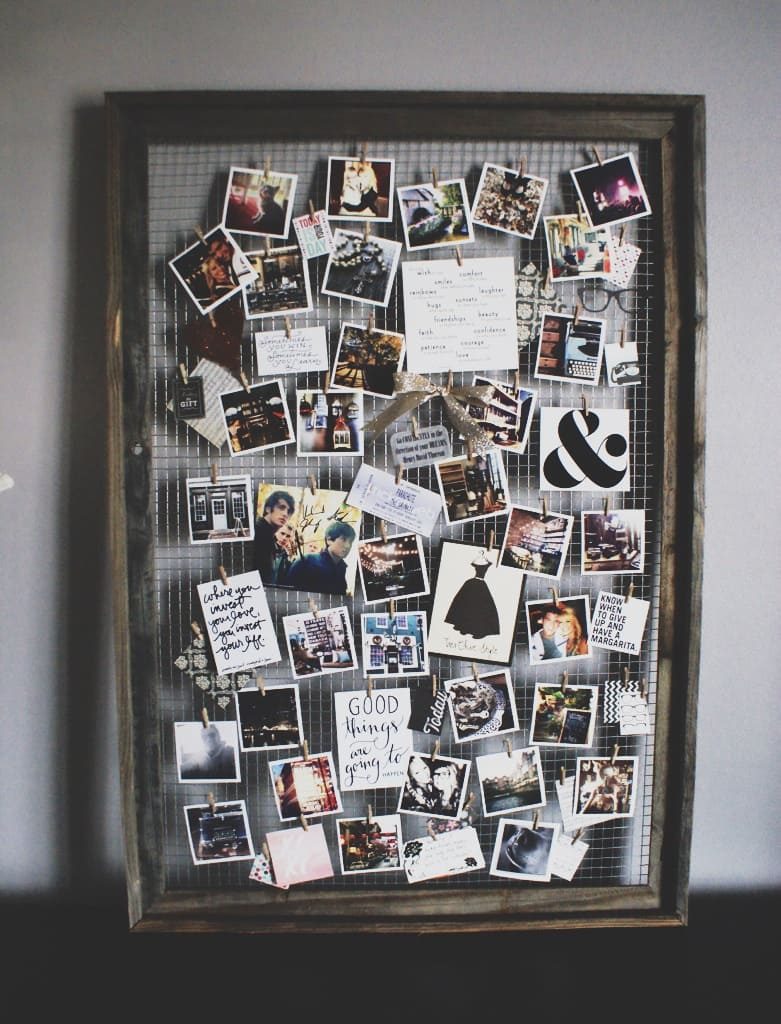 Image credit: The Anastasia Co.
Photo collage design ideas reflect many emotions, but most importantly, they reflect your emotions. They reflect all the moments you want to be frozen forever, so why not make a mood board?
It's one of the best college work ideas. The best way to keep and gift photo collage for friends, as a remembrance for their lifetime spent during the old college days.
Create a fun and exciting series of photos with your favorite quotes, images, and stickers, and display them clustered together in collage frame ideas or on the favorite side of your wall.
For example, print all your college photos together, frame it on the wall and add the letters of the serial 'F.R.I.E.N.D.S' to it. This way, it gives your photo collages a more personal touch.
6. Go big with a series of wall art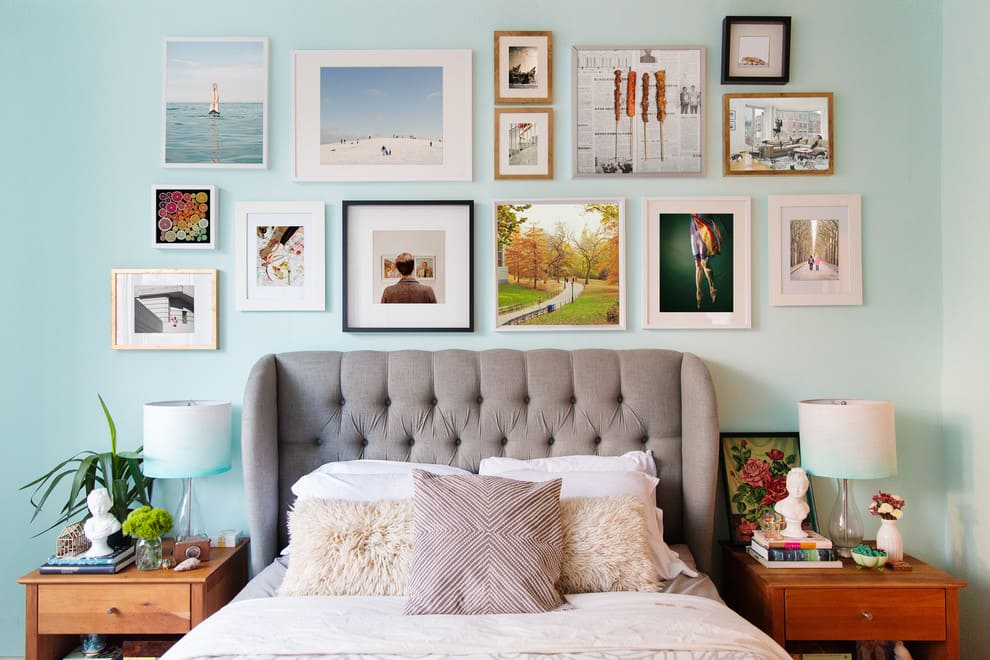 Image credit: Laura Weatherbee
We may have discussed it before in our DIY wall decor ideas, but it looks pretty lovely to create a photo collage on the wall with some big prints you have, especially if you have a massive wall in your living space.
You can use either canvas prints or mounted prints to create this big photo collage. Or if you'd like a more refined look, then wall photo frames will be perfect for you (skip the hassle of finding the frames and framing the photos and get it done in one go instead).
It would be even better if you have a specific theme or color scheme for your photo collage. That would be a treat for anyone seeing your wall!
7. Make a Photo Collage Poster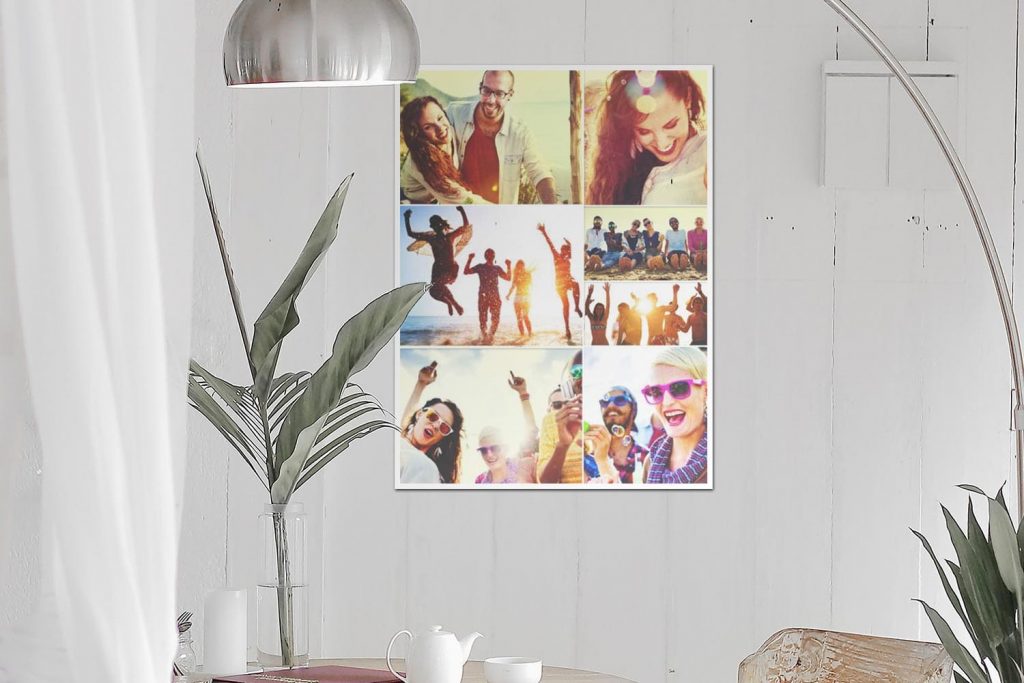 If you fancy making a 6 photo collage or more but don't have much time to manually assemble those photo prints, there's one easy solution: assemble them online and print them as a poster!
Not only does this save you a lot of time, but you also don't need to deal with glue or tape to stick them together.
This will also be a perfect option for a gift. We know sometimes it's not easy to choose just 1 photo, so this way you can give them a bunch of your favorite photos.
Create your photo collage poster now!
8. Make a Collage into a Pretty Lampshade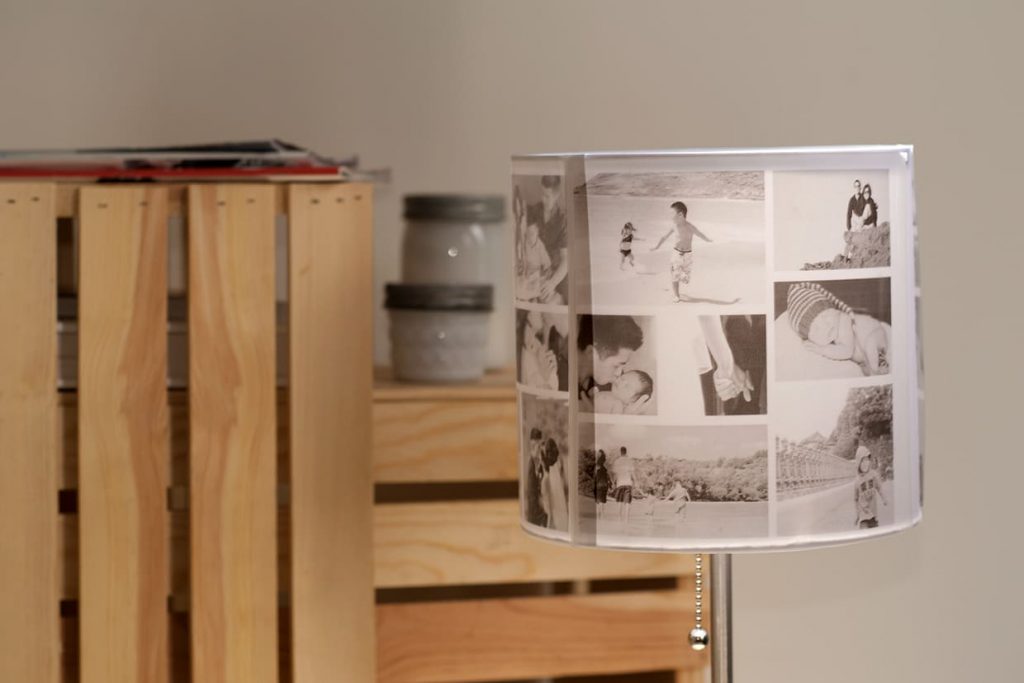 Image credit: Maker Crate
This is one of the most creative photo collage design ideas.
Give your room the extra glow it deserves, make your collages into a pretty lampshade. This is an urban chic idea popular with a lot of millennials missing home and their loved ones, and on a beautiful night, it gives your room an extra warming glow.
Try a round lampshade and get your favorite photos around it. You can check this lampshade photo collages tutorial for more details.
Make a Photo Collage
Do you have any other creative ideas for photo collage? Make a collage of pictures of your own ideas and share them. Let us know in the comments below!