Photos are a great way of capturing and remembering the best of memories. The days we live, the places we visit, the people we adore and love are all a part of our sweetest memories. These photos often find themselves adorning our walls and tables, making our home decor excel too. But blending them with the rest of our decor is done best by photo frame designs. By choosing the best photo frames, one can cherish the memories and beauty together.
Types of Photo Frame Design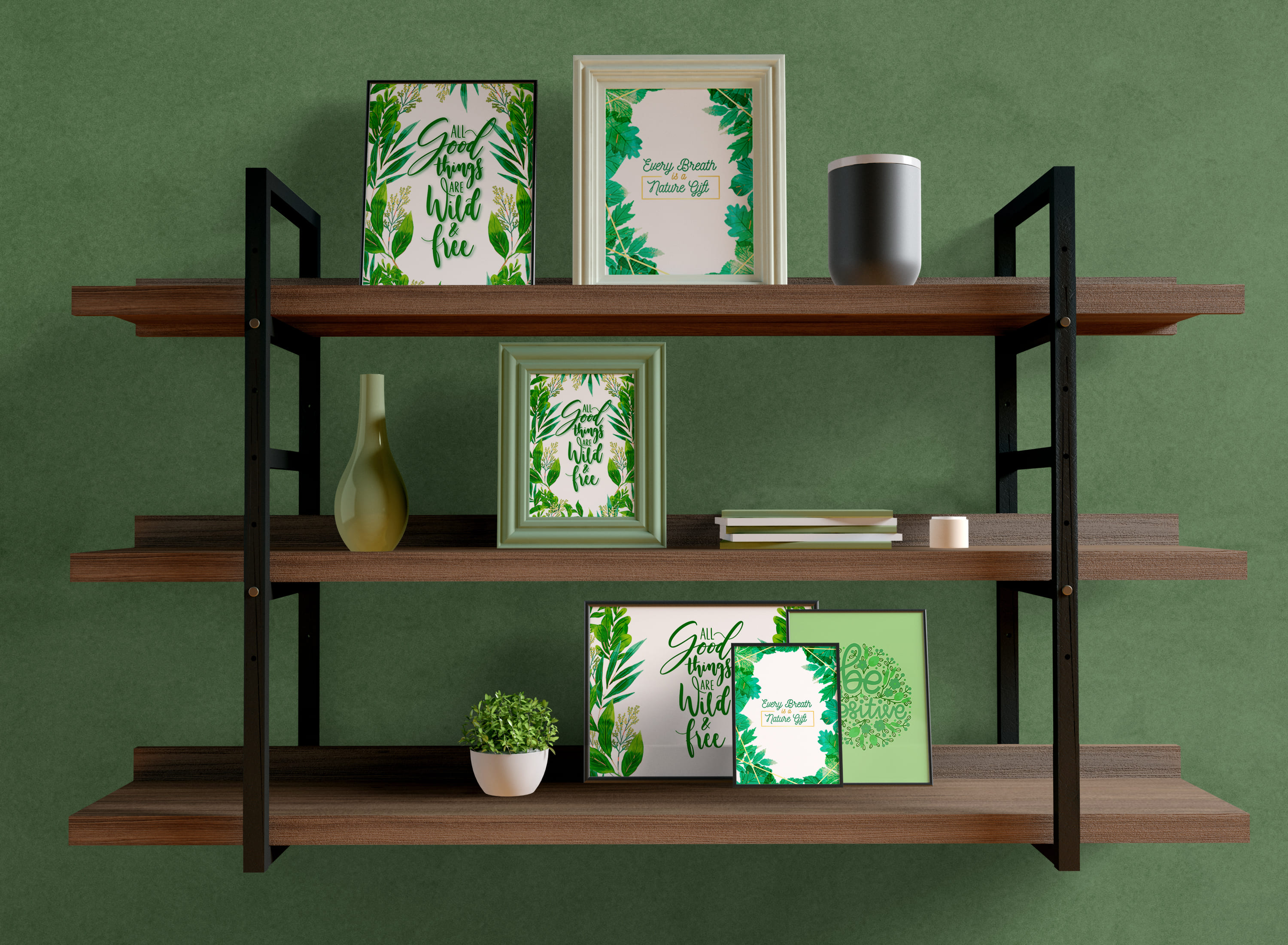 Gallery Frame
Gallery frames use a base high enough to create an elevated frame-in-frame effect as a photo frame design. Use this frame style as a home for your most prized prints, and pull a few of them together to create the gallery wall you've always wanted.
Modern Frame
The thin profile of modern frame styles allow your photos to take center stage, for a minimalist look that puts the emphasis on the print in this photo frame design online. The Modern Metal Frame is tailor-made to add sophistication and modern appeal to minimalist decor themes — but it's at its best in urban-industrial spaces.
Floating Frame
Floating frames use clear glass or acrylic in place of a base to give an effect of floating on the wall. The Floating photo frame design is for displaying the main piece of the pictures. It gives that unforgettable photo the effect of standing on its own, bringing all the attention exactly on the piece.
Deep Set Frames
Deep-set photo frame design uses a thicker base and deeper frame to draw the eye inward toward the image. This unique setting creates a subtle shadow within, adding dimension where once there was none. It is ideal for showcasing landscape or travel photos that welcome pause.
Canvas Prints
When it comes to dimension, these prints take things a step further, stretching canvas onto an internal frame that brings the image out from the wall. The slight float between the canvas and deep frame makes for a unique visual effect unlike anything else available.
Photo Frame Size Guides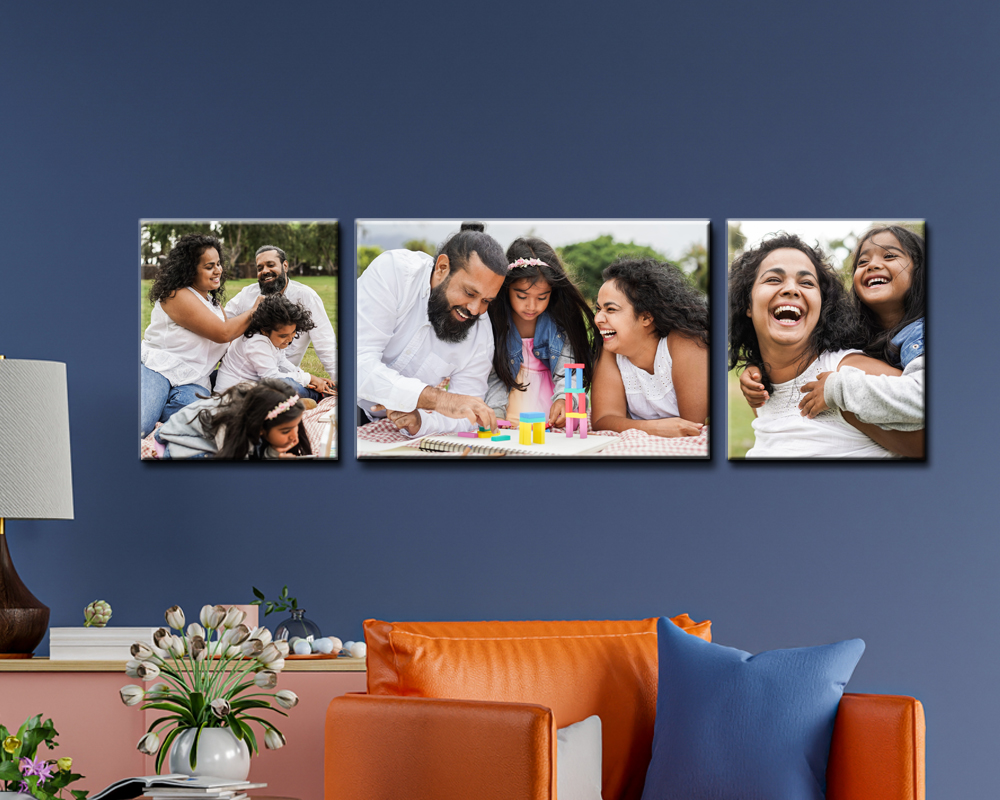 Your photo doesn't have to go in a frame that matches precisely with the photo's dimensions.
Usually, for an image size of 4 x 6 inches, you could use a 6 x 8 or 8 x10 inches frame. Here's a general guide to help you.
How to choose the right photo size?
| Image Size | Frame Size |
| --- | --- |
| 4 x 6 | 6 x 8, 8 x 10 |
| 5 x 7 | 8 x 10, 11 x 14 |
| 8 x 10 | 11 x 14, 12 x 14 |
| 11 x 14 | 16 x 20, 17 x 20 |
| 12 x 16 | 13 x 17, 16 x 20 |
| 12 x 18 | 13 x 19 or larger |
| 16 x 20 | 20 x 24, 24 x 28 |
| 20 x 30 | 24 x 36 |
| 22 x 32 | 30 x 40 |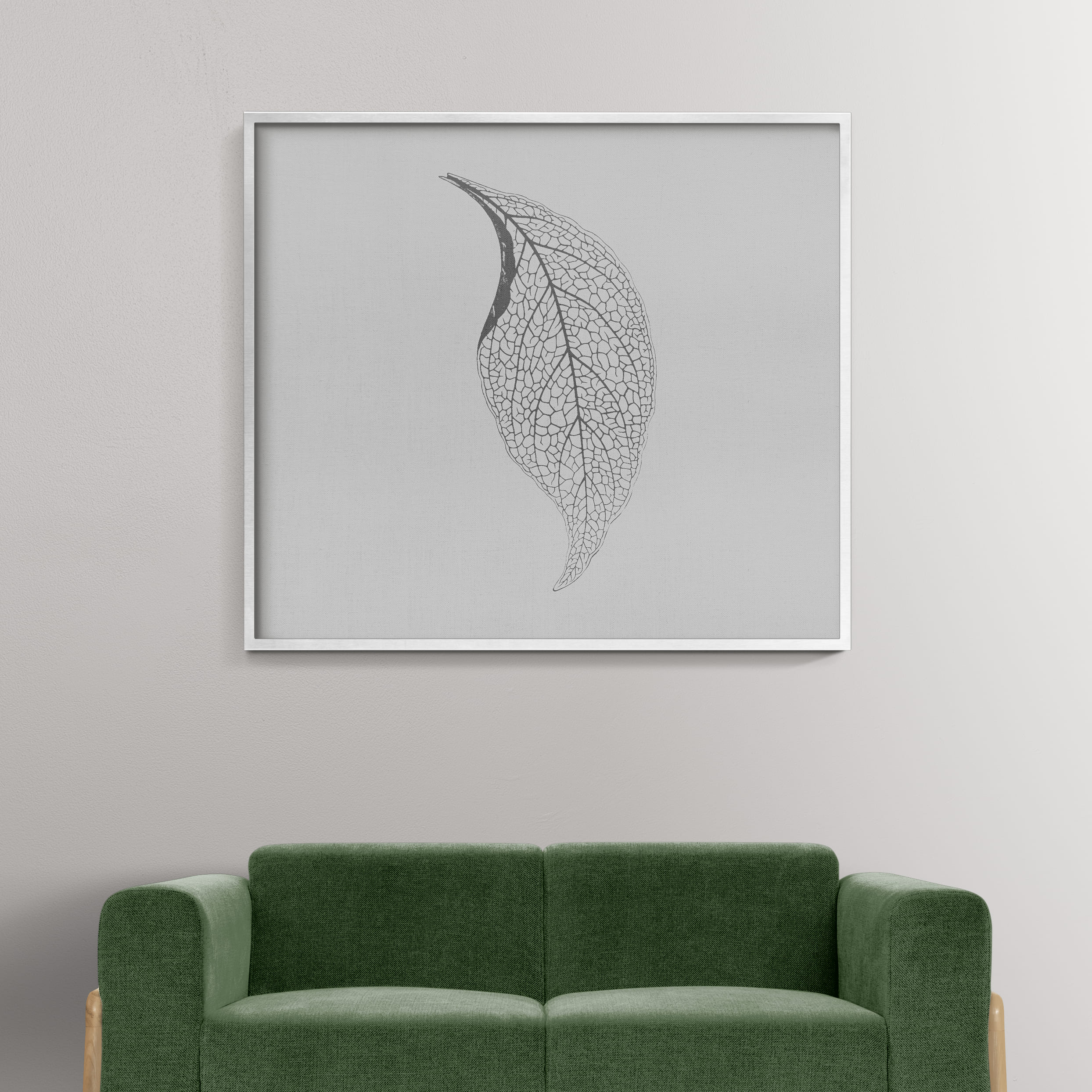 Photo Prints
Save your special moments forever with our range of high-quality photo prints and pictures you love to take every day. We all have so many photos on our phones, and cameras or stored in drives that we never look at. With Photojaanic, printing your photos puts your memories in the palm of your hand, on gorgeous glossy or matte paper. Make your own memories too!
Wall Photo Frames
Live your memories all over again with personalised photo frames that can capture your precious moments with the ones you love. These picture frames can make the plainest of spaces look vibrant and bright. At Photojaanic, our customised photo frames come in a wide range of shapes and sizes and can be hung on the walls of your home or place of work. Get yours today!
Table Photo Frame
Photo frames play a vital role in Interior Designing and give a remarkable look to any existing space as well as memories captured as pictures. At Photojaanic, we bring to you an exclusive range of table photo frames that will satiate your taste for a perfect home decor. Place these on your favorite table and make it look more elegant than ever before. Buy your own here!
Square Prints
Transform your photos into hidden gems from your hard drive, cell phone, digital camera and other devices into works of art with these frames. Celebrate life by printing and framing your favourite moments. Give your cherished moments that final finishing touch they deserve in a choice of frame sizes. Join the celebration with Photojaanic!
Mini Prints
Our mini prints are an adorable way to display pictures of loved ones, pets, or even Instagram snaps. These small square prints are perfect for your wallet, purse, or displaying around the house. There are so many ways you can use our mini photo prints! Get your own Minis today!
Guide on Positioning Frames
Single Photos
When hanging a single picture, a great tip to consider is its size in relation to your wall. For example, if you were to place a small photo on a very large wall then it would go entirely amiss. By only placing frames of sizes that are compatible with the size of the wall you can easily avoid empty looking walls and sad looking paintings. Hang your picture slightly lower to elongate your walls or place it off centre to give the illusion of more openness to a room.
Multiple Photos
You can maximise the effect of single pictures by using multiple pictures. Just the same as with placing one photo, you need to consider how to make the best use of your space and plan carefully. There are an abundance of different ways to display multiple frames, a very common one is placing them along your staircase. This is a simple and effective way to showcase your personal photos.
What to Look for While Buying Photo Frames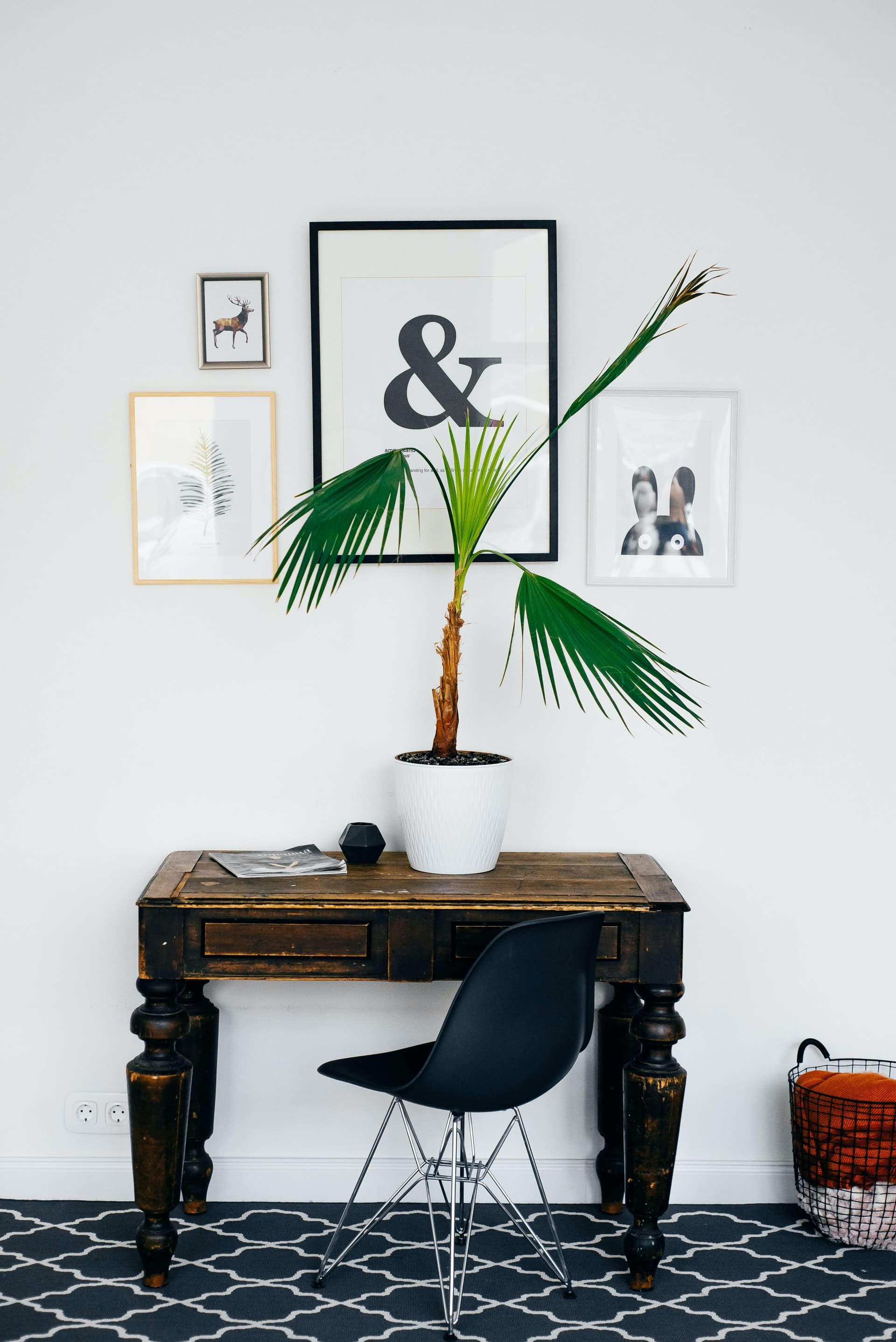 Set your budget
Spending more on a photo frame doesn't necessarily guarantee that you'll get a better viewing experience – there are several affordable frames that nail the basics – but more expensive models do tend to offer greater versatility, a higher resolution or a more premium finish is a great photo frame design idea.
Think about where you'll place it
It's worth thinking about whether you need an adjustable tilt angle if you'll be placing the frame on a higher shelf. It also pays to consider the frame's physical footprint: certain frames require a fair amount of shelf space for the stand behind, while others occupy only the slim width of the frame itself.
Consider the screen
Arguably the most important aspect when choosing between different frames is the screen that will actually display your photos. While larger screens might offer more real estate for your images, they won't always have a cleaner view and resolution. What you need is clarity and strength of material to have the best picture experience.
Family Photo Frame Ideas Guide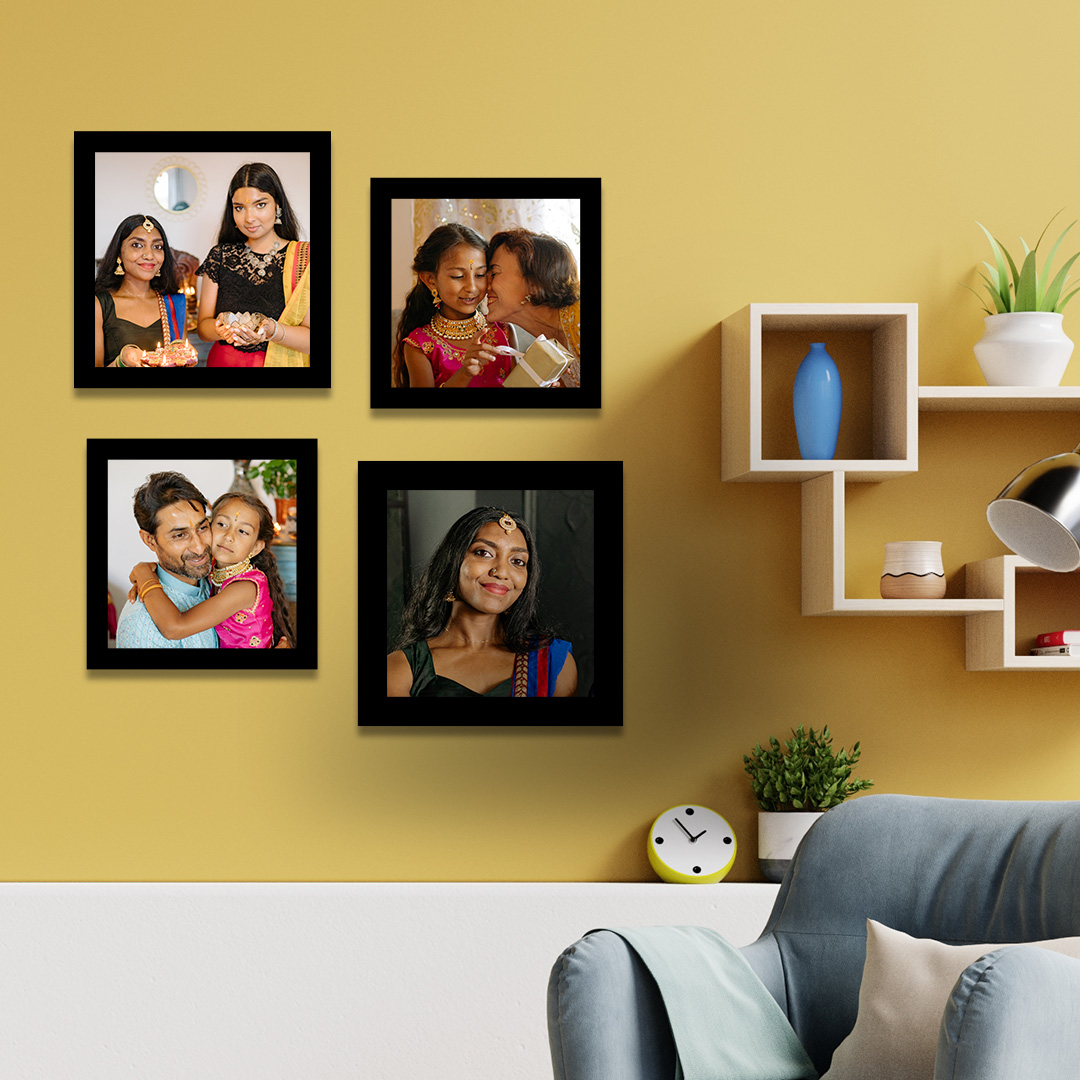 Create a Timeline
A photographic display captures your family's growth, changes, and memories in the form of personalized family photo frames. For example, display a photo from every Christmas, birthday, the first day of school, or another annual occasion to personalize your home's empty spaces.
Frame Your Family Travel Photos
Whether your family goes for a vacation to the same spot each year or you love to explore new destinations, creating a gallery display of your family's travels is a great way to remember all your good times! A compilation of photos from various locations would make a wonderful display of various experiences as part of personalized family picture frames.
Create a Display of Individual Shots
Individual shots look great to create a classy scene. For example, frame a graduation portrait! You may consider presenting it side by side with an elementary school photo for a transformation-type display.
Frame Your Child's Artwork
Create a framed display of your child's art for a splash of color and fun! Your child's artwork will truly warm your home with love and memories. The little artist will feel like a true master, with their art shown off in a beautiful frame around the home.
Capture the Candids
Photograph a real-life feel through candid photos, and create a warm and friendly display for your home. The possibilities are limitless when it comes to candid photos, and it truly depends on your family and the subject of the photo.
Wedding Photo Frame Ideas Guide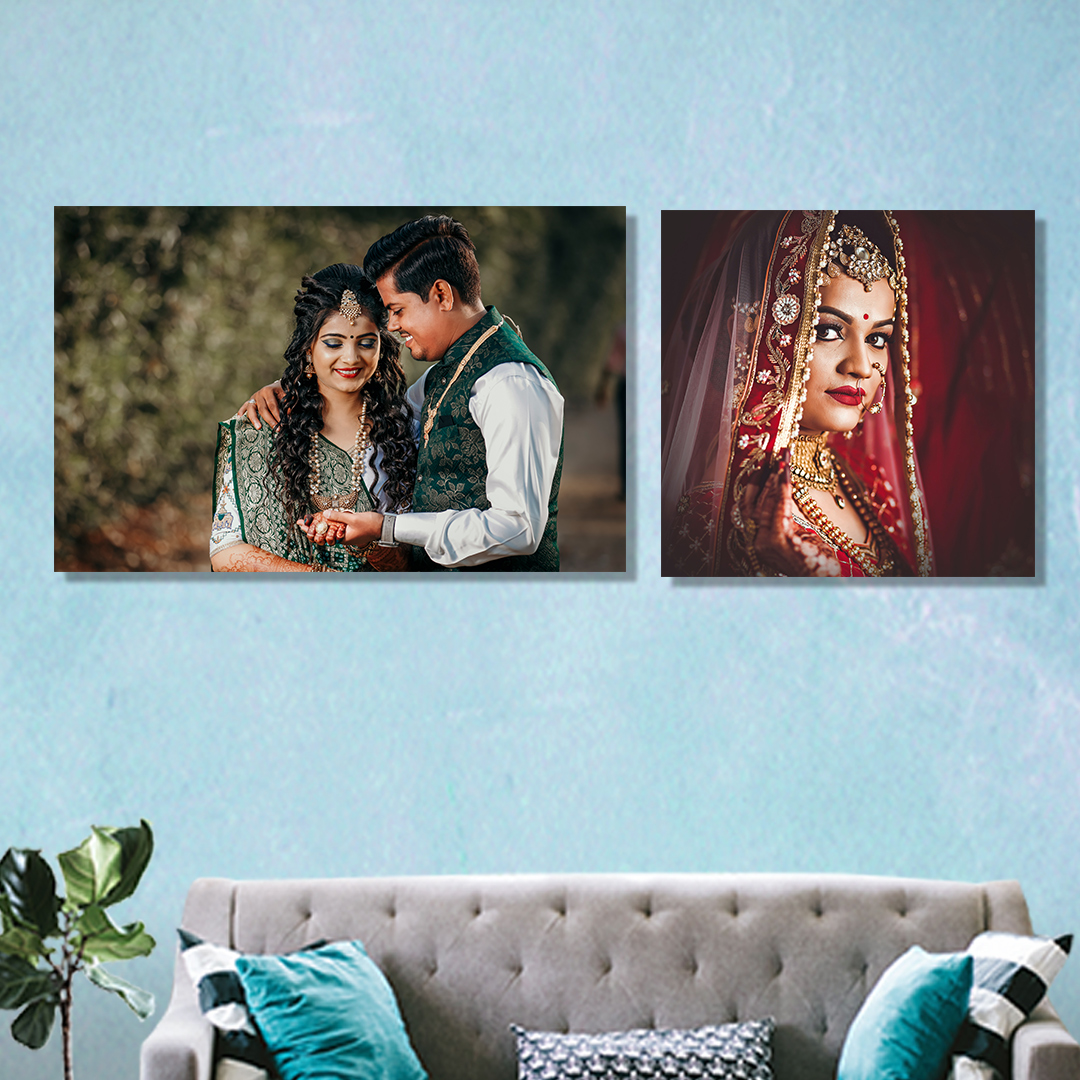 Custom Canvas Print
There is nothing that can show your beautiful wedding photos in more elegance than a classic canvas print. Big and bold, a canvas print will strikingly add more beauty to your originally exceptional photos. And it is better when you can customize your canvas for just the way you want it to be. Explore the same and more with Photojaanic!
Anthropologie Mercury Glass Frame
Mercury glass is coated with a silvering formula for a vintage look that'll perfectly complement your timeless wedding photos. This frame also bears brass and iron detailing for your marriage couple photo frame.
Artifact Uprising Floating Frame
These frames display photos through two clear panes of frame-grade acrylic, clasped by either black or brass bolts. Choose your desired frame size. With your pic printed on premium giclée paper, the whole piece looks as classy as it can be.
Anthropologie Zoe Frame
The muted, swirling pattern on this frame creates a beautifully subtle look. The tiles aren't perfectly geometrical, which adds a bit of character, while the gold corners add a touch of glam to your memory of the big day.
Conclusion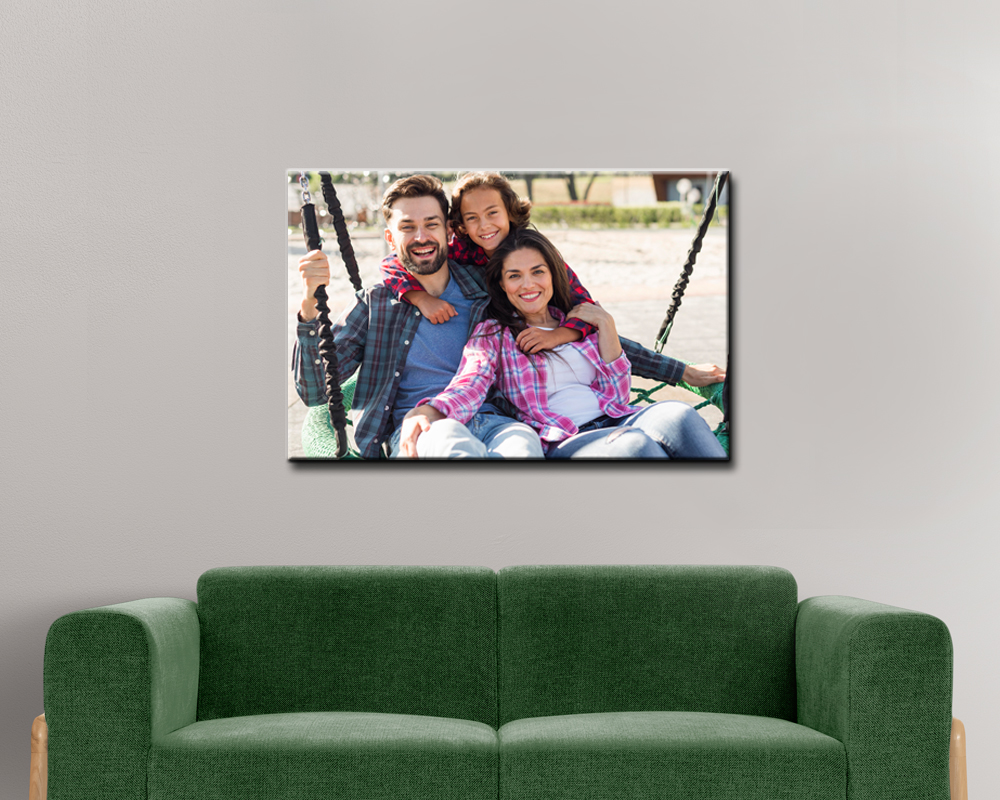 Photo frames are not only meant to hold photo together but they also bring together our memories. As precious as the memories in the photos are, it is worth it to make sure our frames are thought about too. The best of photo frames not only support our photos but enhance their classy quotient.