A wedding day is a special day that requires every bit of planning and organisation. From the food and seating arrangements to the wedding hall decorations, every aspect requires special attention. However, there is one part of the wedding that deserves a little more thought and attention since it is literally the place where the bride and groom unite forever. And that place is called the Mandap. It is only fair that the mandap, being a place where the vows are shared and the marriage knots are tied, is decorated so that photographers can capture the moment to be preserved forever. So to get you inspired, here are a few trending wedding mandap decorations that you can refer to when you plan your wedding:
All White Mandaps 
White is the colour of purity and what better colour to represent the new beginnings of the bride and groom. These days, all-white wedding mandap decorations are the preferred choice among many brides and grooms who wish to keep the wedding elegant.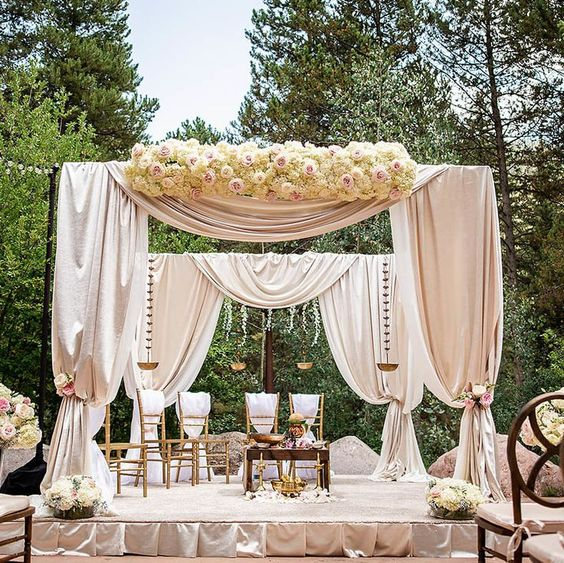 Moreover, it can easily be paired with colours such as red or gold to give it a contrast. You can even choose between a floral dome or a floral arch to give the mandap a dynamic look, and some stunning white drapes to give the mandap an elegant flair. A photo of you and your spouse on this mandap will surely be the most romantic photo in your wedding photo book.
Embrace of Nature
A nature-themed mandap is indeed the craze right now since it allows the bride and groom to tie their wedding knots in a little piece of nature. Foliage and lush greenery mandap decoration help create some exquisite mandap designs that simply look stunning.
Rustic Wedding Mandap
Rustic decorations on a mandap simply give it a special vibe unlike any other. It is simply created with some flowers coupled with some greenery and a few ornaments, lanterns or lights which helps create a unique wedding ambience. Pair this mandap with a romantic wedding pose to make it a picture-perfect wedding.
Pink Twirls Mandap
Pink is one of the most prominent colours when it comes to mandap design. Earlier, wedding decorators would only use pink flowers wrapped around and over the mandap. However, these days the pink flowers are complemented with pink lights, drapes and paper cut-outs that make the mandap look magical. A pink colour decorated mandap is simply perfect for a daytime outdoor wedding. This mandap is so gorgeous that you will be tempted to frame your wedding photos.
An Open Mandap 
Sometimes, beauty can be found in simplicity. An open mandap, although simple and discreet, can be a wonder for an open-air wedding. It is the perfect choice for those who prefer to exchange their wedding vows under the stars, literally.
Roses and Wedding Bells
Decorating a wedding mandap with bells coupled with red roses is a rather stunning new trend. The dull brown-gold colour of the bell paired with the roses simply forms a stunning contrast. This mandap decoration can give any wedding an auspicious feel.
Shower of Flower Mandap
In Indian culture, no matter what the occasion, the use of flowers is imperative, and a wedding is no exception. Flowers are believed to represent happiness, love and blessings and deserve a place on the wedding mandap to bless the couple on their new journey together.
A wedding mandap is the last piece of the wedding puzzle that makes it complete. It is simply a point where the bride and groom transition into a new life together. If your wedding plans are underway and you want your wedding mandap decorations to be the most special thing ever, go ahead and get inspired by these ideas and create your own combinations too.