Family photos are a great way to keep memories alive. Kids grow up so quickly, and family portraits are a way of capturing the sweet moments with your family through the years. Whether you keep the photos in a series of photobooks or turn them into wall art pieces, having family portraits for keepsakes is a beautiful way to document your family's journey.
List of Creative Family Picture Ideas
We have a bunch of family photo ideas to help you create beautiful and fun family portraits, including ideas for locations, props, and poses.
Outdoor Family Photo Ideas
If you live near a beautiful park or building, make the most of it! It's always much more fun to have the family photoshoot ideas outdoors, and the results won't be disappointing!
Play with water

Photo credit: Clicks to Remember
The secret to making your kids smile and let loose is letting them play with water during the summer season! This will guarantee that your photographer will have plenty of opportunities to capture their smiles and twinkling eyes.
In this manner, you can capture 4 – 5 different poses of the kids and create the best photo printing to get your photos printed and delivered at home.
Take a walk around the park

Photo credit: Ankit Chawla Photography
Turn the mundane activity of walking around the park into a photo opportunity. Coordinate with your photographer to have a session during the golden hour in your favorite park during the fall season, and you'll be surprised by how simple things can turn out to be so stunning.
Find a building with an interesting architecture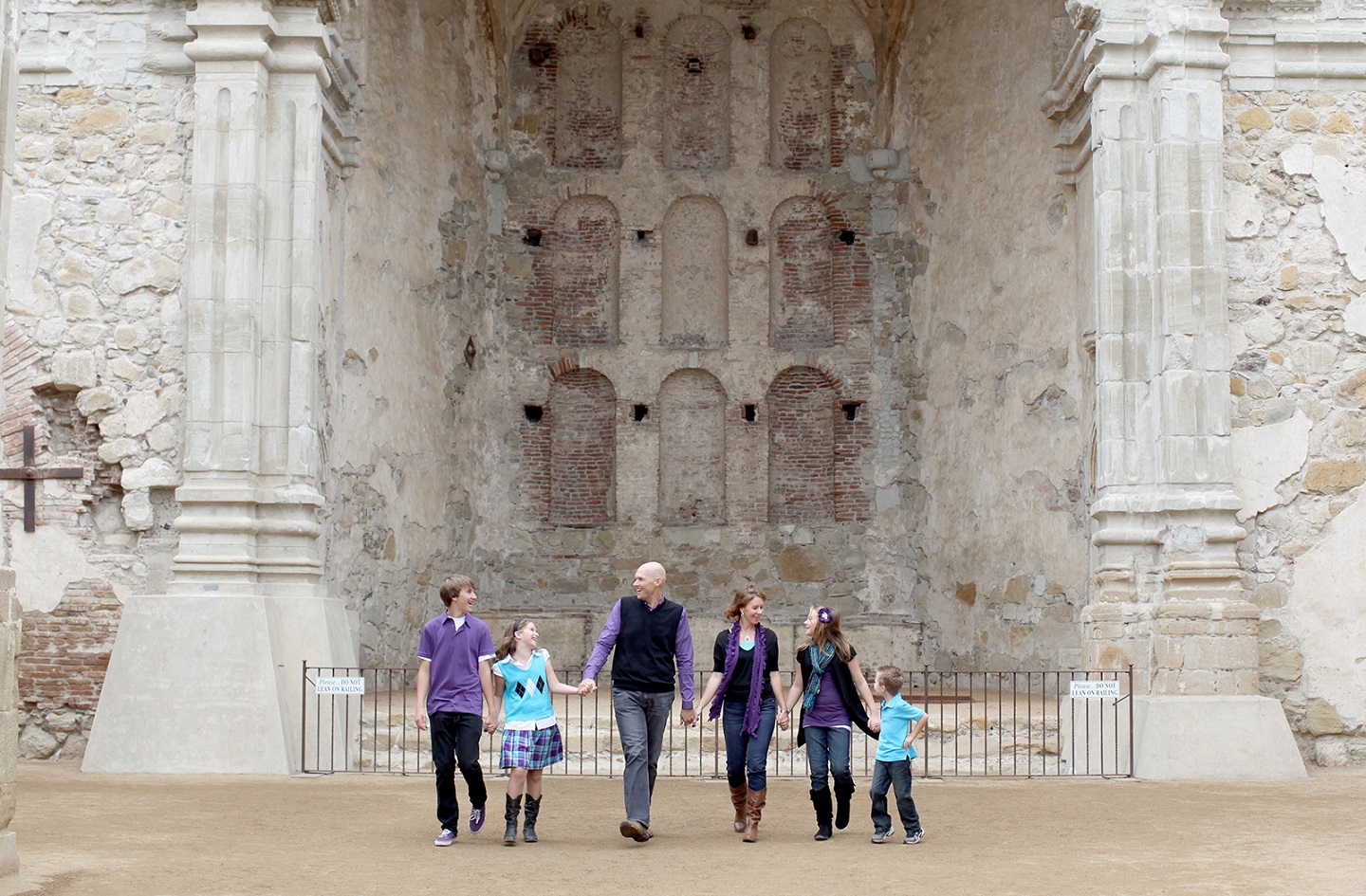 Photo credit: Gilmore Studios
Do you have a place in your country, which will serve as an impressive background for your family portraits? Do an outing as a family for this portrait session, and get a memorable experience as well as stunning images!
Use a bright wall as a background

Photo credit: Kari Bruck Photography
This is the easiest trick for any portrait; if you want a cheerful vibe, find a bright shiny wall in your area and do a photo session there. It's super easy and the result won't disappoint you!
The city is your playground

Photo credit: Katie Rain Photography
Take your family and photographer for a walk to the city's most famous landmark to have a memorable session. The photos will be a great reminder of the town that your kids grew up in. This will be a cool idea in an open area.
Read: Practical Family Photography Tips for a Fun Photoshoot
Indoor Family Photo Ideas
While outdoor photoshoots will guarantee the kids to let loose and have fun, that is not to say that you shouldn't do it indoors. Having the family photo session at home allows you and your family to feel more relaxed, and you'll have the chance to have the family's daily moments and routines captured beautifully.
But how to do the portraits naturally while still making it special? You can try some of these simple ideas.
Set up an indoor game

Photo credit: Priya Goswami
Bring out your board games, UNO stacks, or toys that the kids usually play with. Choose a room with big windows to allow as much natural light as possible and get in fun family pic ideas.
Pose on the bed

Photo credit: Priya Goswami
This is the trick to keep everyone relaxed to get natural shots. You can sit and read a storybook, lie on your front and line up, lie on your back and let the photographer get a bird's-eye view shots.
There are many angles that can be taken from this spot and your photographer will help direct you. This will include in the list of family picture ideas with baby. These images will be useful to create personalized photo cards for your parent's occasion in future.
Chat on the sofa

Photo credit: Vanessa Carvalho
Sit on the sofa and just have a chat like you usually do. There's something heartwarming in catching the sense of normality and daily moments in your family portraits.
Stand up next to a window

Photo credit: Tarah Photography
This might sound a bit boring and ordinary, but if you're looking for natural family portraits with soft natural light, this is the place to be. Choose a big window in your house with lots of light coming in, preferably with a plain wall for the background. Simple, yet elegant and effortlessly beautiful.
Pose in the kitchen

Photo credit: Vanessa Carvalho
If your kitchen is light and airy, why not doing the shoot there? You can let the kids sit on the counter just this once…
Use the front door for background

Photo credit: Pinke Toes Photography
Finding a good spot is often a challenge for photo sessions at home. Use any unique feature in the house for your photoshoot, including the front door!
Do what you usually do… anywhere

Photo credit: M. K. Sadler via Once Wed
The best thing about having the photoshoot at home is you can let the photographers capture your daily routine, in a place that means a lot to your family. Let them capture those little moments, and you'll get heartwarming family photos that you'll cherish for a lifetime.
Of course, indoor location is not limited to your home only. The local cafes, libraries, or museums are some of the good options. This list of indoor locations for family portraits will give you a bunch of ideas.
Ideas for Props
When there's nothing special about the location, you can still make it unique by using props for your family photos. Some photographers might even have props ready to use for photoshoots, so don't hesitate to ask!
Here are a few ideas of the props you can use for your family portraits.
A teepee

Photo credit: Sloane Photographers via Gold Feathers
Using a teepee as a prop will definitely turn the images from nothing to something. If you take photos in your plain backyard, for example, a teepee would instantly transform the look and add a boho and fun vibe to your family portraits.
A wagon

Photo credit: Kaleidoscope Imagery
A wooden wagon makes for a cute prop for family photos. Your kid(s) will have tons of fun during the photo shoot, while you'll get beautiful family portraits with natural smiles and glee written across the faces of the whole family.
Colorful balloons

Photo credit: Becca Bond Photography
Nothing makes kids happier than balloons. Use these if you want colorful family photos and happy grins. Alternatively, you can use colorful plastic balls to get a similar look.
A chalkboard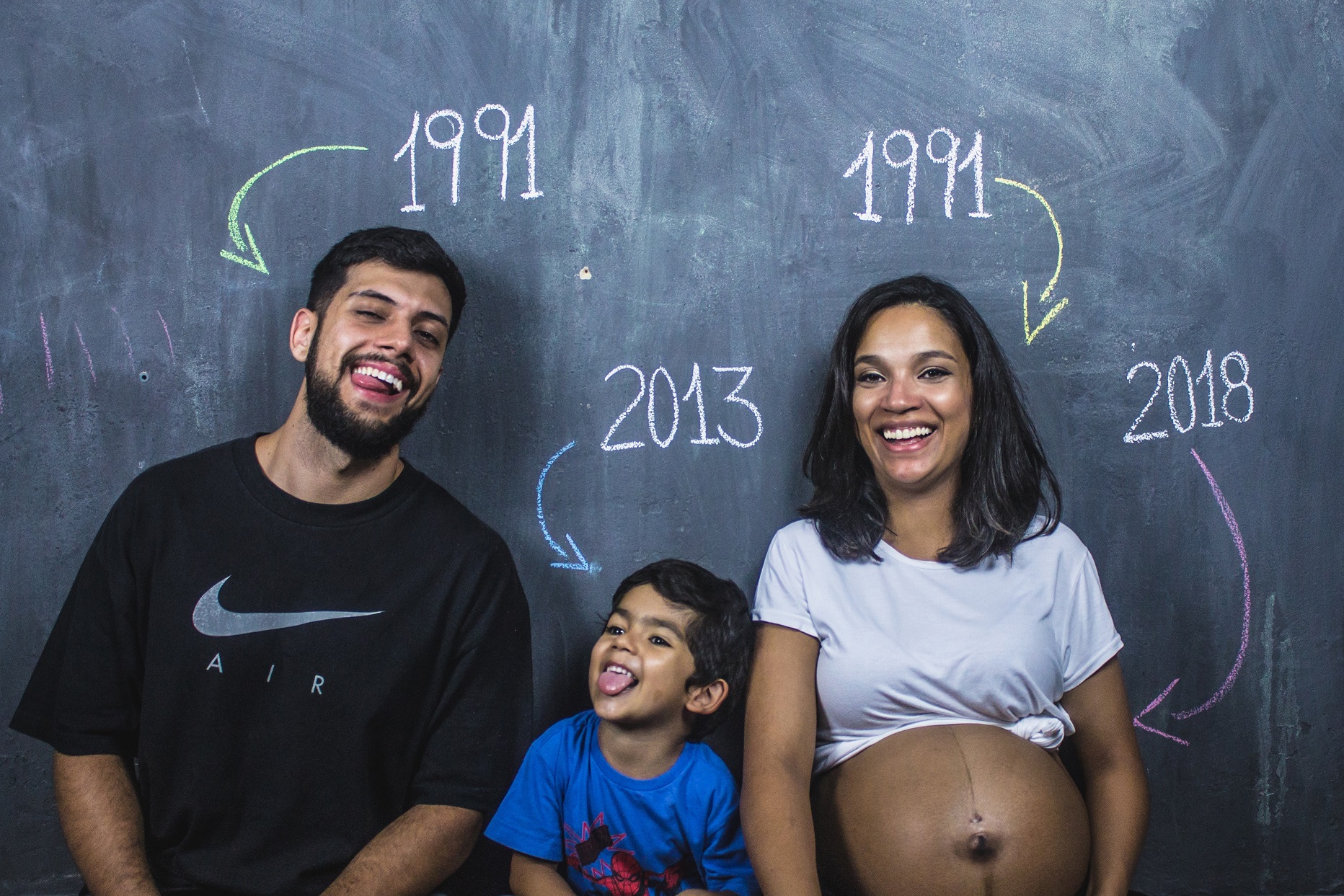 Have fun with doodles and writing on a chalkboard to tell the stories of your family! You can also consider using that as a background if it's big enough. When you're shooting indoors with limited space, a chalkboard can help to make it fun and extraordinary.
Read: Easy Photo Wall Ideas to Spruce Up Your Home
Ideas for Family Photo Poses
Your photographer should be able to direct you to pose, but it doesn't hurt to have a few ideas in mind yourself. These are some of the most popular and timeless poses.
Lift them up

Photo credit: Katie Rain Photography
Every parent does this, and this is a moment from everyday life that should be captured on camera.
Cuddle up

Photo credit: Sloane Photographers
Give a big group cuddle and let your photographer capture the giggles and fun!
Kiss fountain

Photo credit: Photo Rikiki
Sweet and heartwarming, this pose remains as one of the favorites. Dad kisses mom, mom kisses kid, kid kisses baby… Make sure you include this in your family picture ideas list.
Swing them

Photo credit: Sloane Photographers
Kids love this, and it also makes for great photos!
A couple more tips to make it even more special…
Wear matching clothes

Photo credit: Niddledy Noddledy
This idea is not something new, but it's still worth mentioning nonetheless! You can go from something simple like matching white tops or flannel shirts or go the more daring route by wearing something bold like movie character or superhero costumes.
Capture the imperfection

Photo credit: Danielle Guenther Photography
Parenthood isn't always picture-perfect. In fact, it's a part of everyday life! Capture these precious moments with your family, and get a photo session that captures your family in all the good and bad. Show the mess as well as the glamour!
Looking for more fun ideas? Take a look at these out of the box, creative family portrait ideas!
---
We hope these family photo ideas can inspire you for your next photo session! Make sure you keep the photos beautifully displayed, whether as decor to adorn your home, or in a beautiful family photobook as a keepsake.
Which one is your favorite? Leave your comments below!